Capital Direct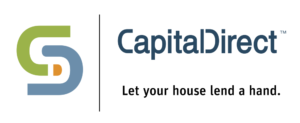 Capital Direct specializes in home equity and residential mortgage financing for individuals in a variety of credit situations. Founded in 1997, the company now has offices in Vancouver, Calgary, Edmonton, Toronto Charlottetown, Moncton and Halifax, and has become one of the fastest growing, non-traditional private lending companies in Canada.
Capital Direct Lending Corp. lends out millions of our own funds every month, and since 1997, has funded over 1.5 Billion Dollars in mortgages.
Our mission is to help Canadians use the equity in their homes to finance dreams and drive long-term prosperity.
Over the years, the value of Canadian real estate has appreciated significantly. Canadian homeowner have increased their net worth simply by owning a principle residence and paying down their mortgage. However with rising inflation, it is sometime difficult to live outside the box and realize other financial goals.
A home equity loan enables Canadians to turn that appreciation into cash and use the money to consolidate high-interest debt, buy a business or property, make home renovations to increase value, pay for education or medical expenses, or simply put money away for a rainy day!
Capital Direct Lending Corp. bases approvals primarily on the equity value of the home, rather than on credit worthiness. Owning a home and paying down a mortgage shows financial responsibility and we recognize this. We take a different approach. Capital Direct truly is mortgages for the rest of us!
Our home equity lenders and mortgage brokers are certified members of AMP, CIMBL, MBABC & RECA; and come from a banking background. We want to make a difference and in fact take great pride in knowing that, over the years, we have helped thousands of Canadians get on the road to a better life!
For any questions, don't hesitate to reach out to us anytime.
Cheryl Smith
Business Development Manager – Ontario
Capital Direct Lending Corp.
Cell: (905)-299-1706
csmith@capitaldirect.ca
Donna Hunter
Business Development Manager – Alberta
Capital Direct Lending Corp.
Office : (403) 278-6200
Cell: (403) 874-6348
dhunter@capitaldirect.ca
Greg Kakuno
Business Development Manager – British Columbia
Capital Direct Lending Corp.
Office: (604) 430-1498
gkakuno@capitaldirect.ca