Alta West Capital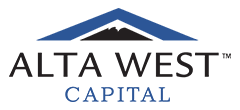 AWC Underwriting Pricing Summary
Express Mortgage Promo August 2022
Alta West Capital is a dynamic Alternative Lender lending in Alberta, British Columbia, and Ontario.
We have a 29-year history in serving Canadians by providing mortgage financing for those that fall outside of conventional banking guidelines, providing investments for financial independence, and performing philanthropic work in Canada and abroad. We take pride in providing alternative financing that puts Canadians in their homes. We do this by providing our broker partners the products, resources, transparency, and underwriting consistency that they require to do what they do best.
Thank you again for choosing to work with Alta West Capital. We look forward to the opportunity to work with you on your deals. If you have any questions about these materials or need assistance working on your application, please contact one of our Business Development Manager's below.
Sincerely,
ARMANDO DISERI
National Sales Director
647.915.1932
armando@awcapital.ca
FRANCIS LEE
Business Development Manager
647.705.9480
francis@awcapital.ca
AMY CHEN
Business Development Manager, BC & Alberta
604.358.3374
amy@awcapital.ca